DETROIT 5 APRILE 2020 CORSERA.IT by Donna Austin
CorSera.it Copyright 2020
L'Italia è flagellata dalla pandemia, ogni giorno Angelo Borrelli conta i morti, i contagiati, gli intubati.Il capo della Protezione Civile Italiana, rifiuta di indossare le mascherine " rispetto la distanza di sicurezza... non ne ho bisogno" . Eppure, tra i tanti morti di cui ha dato lettura, nel mondo c'e' anche il caso di Jason Hargrove, autista di un bus pubblico nella città di Detroit, morto per essere stato appestato dagli avventori del suo bus, che gli tossivano in faccia senza curarsi di assumere una pur banalissima precauzione, come quella di indossare delle mascherine. Jason Hargrove, ha pubblicato un video ( che anche noi riportiamo in versonie integrale ) , in cui denunciava quanto accadutogli nell'ambito della sua attività lavorativa.Una registrazione che....
rimarrà alla storia del Covid-19 nel mondo. Un video dei suoi ultimi giorni, immagini dure, crude, angoscianti, di un giovane padre di famiglia, ammazzato dai tanti cittadini irresponsabili, morto per negligenza delle autorità sanitarie americane. Angelo Borrelli dovrebbe dimettersi. La sua idiozia è grossolana, l'irresponsabilità indegna della carica che ricopre. Noi tutti sappiamo e ne scriviamo da mesi, che tossire, è uno di quegli atti del comportamento umano, che alle volte non si possono controllare. Un gesto automatico, istintivo. Indossare le mascherine, è indispensabile non soltanto per diminuire le possibilità di contagio, ma sopratutto per prevenire colpi di tosse istintivi, persone che urlano o parlano allo smartphone, senza rendersi conto che stanno infettando tutti coloro che si trovano intorno a loro. La mascherina è una barriera al droplet omicida di un contagiato o un asintomatico.Angelo Borrelli dovrebbe dare il buon esempio alla popolazione italiana e dimettersi per stupidità operativa.
CorSera.it Copyright
CNN la Notizia integrale uscita due giorni orsono.
Bus driver Jason Hargrove spoke to the people of Detroit on video March 21, trying to get them to take the coronavirus pandemic seriously.
He was upset that a woman had taken no measures to cover her coughing when she was on his bus.
"For us to get through this and get over this, y'all need to take this seriously," he said with an expletive thrown in. ... There's folks dying out here."
Four days later Hargrove, 50, got sick. He died Wednesday night.
It isn't clear how he got Covid-19.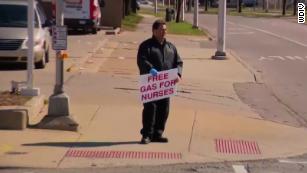 Man uses $900 from savings to buy gas for more than 50 Detroit nurses
But bus drivers in Detroit were so angry about passengers who were coughing and sneezing they had walked out March 17. After that they started getting gloves supplied to them and they wear masks when they can get them, according to Glenn Tolbert, president of the bus drivers' union.
He said the fleet was cleaned and sanitized following the walkout, but he wonders whether that was enough.
"We see more sick people than any doctor," Tolbert told CNN's Anderson Cooper. "We are the first responders before the first responders, because we pick up the sick taking them to the hospitals."
Mayor Mike Duggan told reporters Thursday that when he met with drivers during their work stoppage, they told him about passengers coughing and sneezing as they were putting money in the fare box.
He said he had watched Hargrove's video and everyone in America should see it.
"I don't know how you can watch it and not tear up," the mayor said. "He knew his life was being put in jeopardy even though he was going to work for the citizens of Detroit everyday, by somebody who just didn't care, somebody who didn't take this seriously. And now he's gone."
Bus drivers in Detroit are no longer opening their front doors or collecting fares, the mayor said. People enter through the back doors of buses.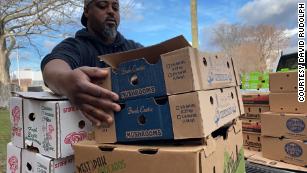 Detroit mom-and-pop restaurants, forced to close due to coronavirus, now cook meals for homeless
Hargrove posted his video before the mayor ordered the changes. "It's something that I'm going to think about for a long time," Duggan said.
Bus drivers can also get hotel rooms if they are concerned about potentially taking home the virus to family, the mayor said.
In the video, Hargrove says a woman coughed four or five times without trying to cover her mouth.
"But for you to get on a bus and stand on the bus and cough several times without covering up your mouth and you know they we are in the middle of a pandemic, that let's me know that some folks don't care, utterly don't give a (expletive)," he says.
He said he wasn't faulting all passengers for his anger, just this woman.
In Detroit, 2,860 people have been infected with the novel coronavirus and 97 have died, as of Thursday.